I didn't even notice! lol but I have enough points to give away a
1 month subscription~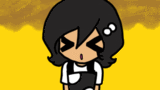 for anyone that doesn't remember/ doesn't know how this works let me explain it!
-
Monday 20th
I will upload a picture saying " Free Sub " all you have to do is "
favorite it
"; when you favorite it gives you a number ( favorites / who? ).
-The drawing will only be up for 1 day / 24 hours. after that I will delete the "free sub" drawing.
-I will use an
online random number generator to pick a winner
, and then I will gift them a free 1-month-subscription~
simple right?
here are some simple rules~
-the name that
gets picked, gets the subscription
. no "I want to give my sub to my friend" deals.
-if the name that gets picked
has a subscription already, then I will pick another
number.
-if the account
doesn't seem active
. meaning there's not enough art/journals posted or doesn't update often then
I will judge whether or not I should gift that person.
if you have any tips on how to make this raffle better, please comment!
please remember these points were donated, I didn't purchase the points. so if anything thank all the wonderful people that donates~ even 1 point helps in the long run